Door Hangers Maryland – Direct To Door Marketing Maryland
Maryland is widely regarded as one of the most beautiful places to live in the entire country. A place that is so favorable to live in will certainly offer a tough and competitive place for a business to thrive. You will need to increase your brand's awareness and give great deals to make you one of the top businesses in Maryland.
Direct To Door Marketing Maryland has been providing amazing quality door hangers here for many years. Our customers have said that a Door Hangers Maryland marketing campaign was one of the best things they have ever done for their business.
We are proud that some of our customers have been using our Door Hangers Maryland since 1995. Our Door Hangers Maryland marketing campaigns offer an excellent ROI without having to spend large sums of cash. Call now for info on your next Door Hangers Maryland campaign.

Door Hanger Distribution Maryland – Flyer Delivery Service Maryland
Do you have a complex message that you need to get out to the masses? Perhaps you should consider using our Flyer Delivery Service Maryland marketing campaigns. Flyer marketing is just like door hangers but they offer more space so you can have a truly complex message filled with images and coupons and links to your social media and it not feel to crowded.
We also offer door hanger distribution services for customers who ordered door hangers but do not have the time to hang them up. Furthermore we would always advise using our services when it comes to the distribution of door hangers or flyers.
Even small campaigns of just a few thousand door hangers or flyers will take up much time which would be better served if you went back to managing your business instead of posting hangers. Free estimates call us today to learn more about our Door Hanger Distribution Maryland service.


GPS Tracked Door Hangers – GPS Tracked Flyer Distribution Maryland
GPS tracking has become an industry standard for marketing and distribution companies. Direct To Door Marketing is one of the first GPS tracked door hanger distribution companies in Lower Maryland.
We offer full GPS tracking of all our canvassers and even have a smartphone application that gives you the ability to see where and when your door hangers were placed.
Our GPS Tracked Door Hangers Maryland products have won awards and captivated customers for years. GPS tracking gives our clients peace of mind knowing that their investment is being handled with care.
When you shop with Direct To Door Marketing you are advertising with experts who love what they do and will give you an amazing return on your investment with our firm. We hope to hear from you soon.
Political Door Hangers Maryland – Political Fundraising Door Hangers Maryland
If you are running for office in Maryland you should consider Direct To Door Marketing INC as your partner for your advertising needs. Direct To Door Marketing Maryland has provided amazing Political Door Hangers Maryland services for over 30 years.
Our company has been able to get several politicians elected and we also have the luxury of handling many direct marketing and door-hanger campaigns for some lifelong politicians. If your goal is to spread your message and word to as many people as possible we can definitely help.
Direct To Door Marketing Maryland always uses the highest quality voter data to pair your campaign with people who want to hear your message. Direct To Door Marketing Maryland will put your campaign front and center and give you a great chance to win.
We have a strong belief in our Political Fundraising Door Hangers Maryland services and we are more than confident that we can help you succeed. please call us today so we can discuss how our Political Door Hangers Maryland services can help benefit your campaign!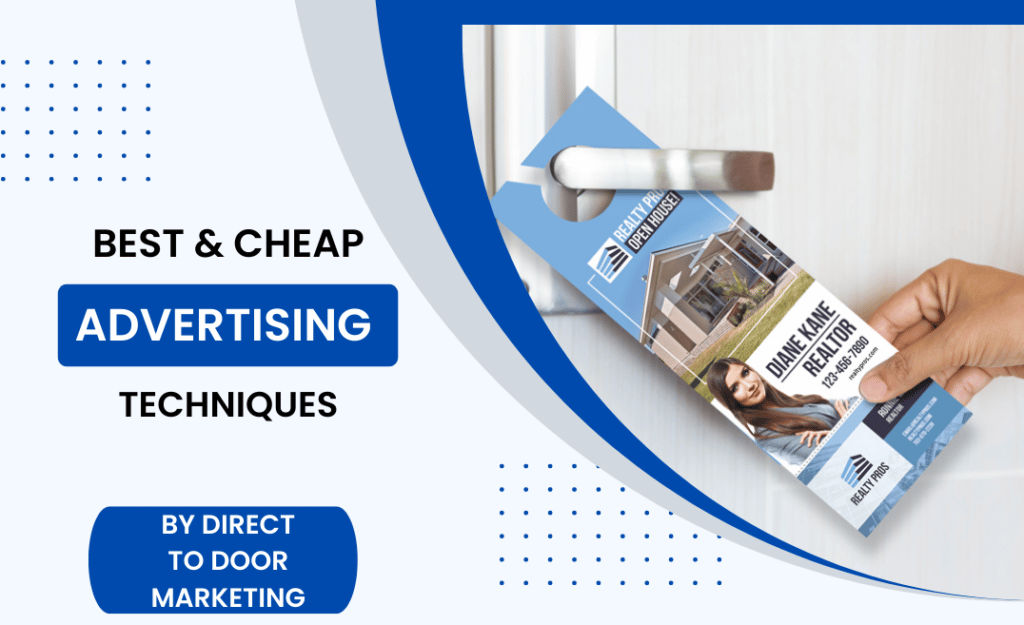 Cheap Advertising Maryland – Door To Door Flyer Delivery Maryland
Direct To Door Marketing INC is proud to offer the cheapest advertising available in the marketplace today. We are firm believers that advertising should be effective but also cost-effective. Direct To Door marketing will always strive to present the lowest cost options for all of our customers.
Flyer marketing can offer you a great way to spread word about your business or simply announce new ownership.
Direct To Door Marketing INC is your partner and will work with any size budget to deliver you amazing results. Small business owners with specialty stores, products and services can take advantage of niche marketing to reach their target clients and door hangers. Call today!
Full Service Printing Maryland – Graphic Design Maryland
Direct To Door Marketing INC is proud to offer our award-winning graphic design Maryland services. We have truly honed our expert craft of print marketing and door hanger design. We can give you a unique and beautiful full-service printing Maryland experience. Many of our customers once they have used us continue to do so for years. We even have some customers who have been using us since 1995.
We look forward to providing you with the exact type of marketing material that you need to take your business to new heights. Mention you found us online and we will give you an amazing deal on your first door hangers Maryland marketing project.
Direct To Door utilize the highest-end technology to make sure you get a cutting-edge level of service and marketing materials. Call Today! Our team of customer service representatives, account managers, graphic designers, pressmen, and warehouse staff are ready to serve you and exceed your expectations.
We take great pride in being a one-stop shop for all of your printing needs whether it's business cards Maryland, flyers, postcards, or any other type of printed material, we can help!
So please call us today to learn more about our products and services or to request a free quote. Thank you for considering Direct To Door Printing for your next printing project!
Free Estimates 866-643-4037
info@doorhangerswork.com
18034 Ventura Blvd., Suite 274
Encino, CA 91316